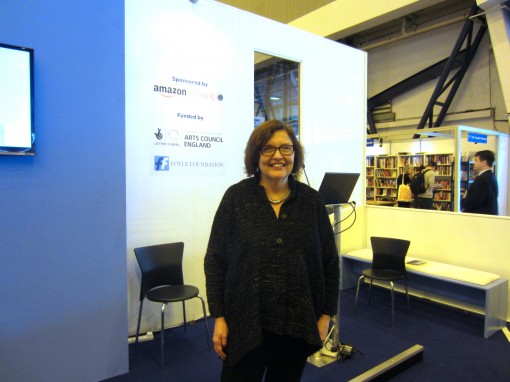 By Olivia Snaije // Publishing Perspectives
LONDON: At another packed event at the literary translation center at the London Book Fair last Thursday a panel discussed the best ways of bringing foreign-language authors to publishers.
Panel members consisted of Janklow & Nesbit literary agent Rebecca Carter, who worked as a Random House editor for 15 years, often acquiring literary fiction in translation, Kerry Glencorse, an agent with Susannah Lea Associates who is also on the PEN writers in translation committee, Stefan Tobler, translator and publisher of & Other Stories and Maureen Freely, author, translator and the new president of English PEN.
Finding Writers
One of the first issues addressed was how to actually find interesting writers in different languages.
Stefan Tobler translates from German and Portuguese to English and reads French, and within his publishing house he has organized reading groups during which time translators can suggest books. Reading groups have taken place in Russian, Arabic, Polish, and Lithuanian among other languages, which has given Tobler a chance to hear translators' opinions about certain authors.
"It's also a mixture of people getting in touch or us getting in touch with them," he added.
Rebecca Carter explained that when she was an editor books came to her in a random, haphazard way, although it helped that she reads in French and Italian. She stressed that translators should know, when approaching editors with suggestions, that most do not have as rigorous approach as & Other Stories.
"Apart from a few publishers who make [books in translation] their goal, publishers are really just looking for that book that will work in the British market. We depend on the translator to filter that book out for us."
Tobler, on the other hand, said it makes sense for his publishing company to take translators' suggestions and that he doesn't like translators to get too market conscious. "The bigger publishers think about profit and loss and we don't really do that."
Maureen Freely, who translates from Turkish to English, said she is trying to form a network of "brilliant young things who know Turkish literature" and who can bring suggestions to the publishing world. For Freely, forming relationships with editors – Bloomsbury, Penguin classics and Archipelago, for example – is essential to knowing what a publisher might be interested in. "The relationship [with an editor] has to precede the translation," said Freely.
"You're more than a translator, you're someone who negotiates the political and cultural landscape as a dragoman."
Carter concurred: "Having been an editor seeking books and now as an agent who is selling books, I take on books because I know which publisher is looking for what."
How Translators Can Help
So how should translators approach publishers, especially when they are younger and passionate about a writer, but lack networks and credibility? How much translation in advance should they do for free? And do you do as an editor when you are brought an author by a translator, but you're not convinced about the translation itself?
"You have to be willing to do things for free at first," said Tobler. "It's only after you've got the editor's interest that you might get a contract. If you're starting out as a literary translator and you can't be bothered to translate some extracts, well then, you're not passionate enough! Getting into literary translation, every hour is not going to pay financially. You get into it because you love literary translation and then down the line it all works out.
Usually, we take translators' suggestions we have pretty much always gone with that translator."
Freely remarked that she has been involved in situations in which publishers have asked her to work with a promising translator who is not quite ready to work on his or her own. "Some translators haven't had enough practice."
"At Harvill Secker I desperately relied on translators' recommendations," said Carter, who would generally commission several translation samples and then spend time thinking about each one before choosing. She didn't always use the most established translator; in the case of Irène Némirovsky's tremendously successful Suite Française, Carter used the translator who had the least experience.
Although she said she formed relationships with translators who became advisers and readers, she usually took on projects that came via agents or foreign publishers with the exception of Chinese translators working with the literary journal Paper Republic.
Maureen Freely said that most the books she has translated have come to her by way of publishers and authors, although there are several books that she has gone about "agenting," because she felt passionate about them.
Carter stressed the importance for the translator to find out about who owns the rights to a book before they suggest it. Translations of book reviews from other countries are helpful as well. "You have to give editors ammunition."
What Makes a Translation Work
Finally, asked Kerry Glencorse, what makes a book in translation work?
Tobler said it depended how you defined a book that works. & Other stories has had a translated book that hasn't sold much but is one that readers have systematically loved. Since it reached people it can be considered a successful book.
Freely feels that a good translation is a book "that takes you into another world. In that other world it will resonate and make you want to find out about that world and what is connected to it."
Carter learned to ward off a sentiment that a book should be published because readers "should" know about a place described in a book. "I love books that teach me about other places but that's not necessarily what people like."
In the end, said Freely, loving the book you translate makes a big difference.