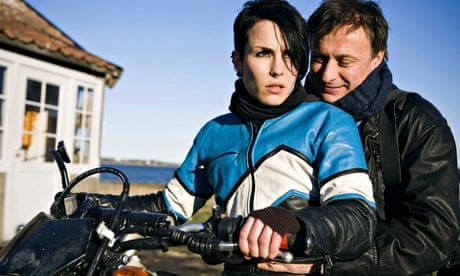 Dalya Alberge
British readers are devouring foreign fiction in record numbers amid a mini-boom in translated novels, inspired by the success of Scandinavian authors such as Jo Nesbø.
Among a string of high-profile launches, Penguin Classics is soon to publish a collection of Arabic short stories, entitled Tales of the Marvellous and News of the Strange, translated by the Cambridge academic Malcolm Lyons. It is the first time in 1,000 years that the earliest-known Arabic stories will have been printed in English.
Harvill Secker, a mainstream publisher focused on translated literature, is this year publishing authors from 18 countries including Haruki Murakami and Nesbø, the Norwegian crime writer who has sold more than 23 million copies internationally. Next year they release the fourth of a six-book autobiographical series by Karl Ove Knausgård. In Norway alone, the volume has sold 450,000 copies.
Liz Foley, Harvill Secker's publishing director, said: «There used to be a feeling translations were 'good for you' and not enjoyable … like vegetables … But actually they're wonderful books.» Translations had «become more mainstream», said Foley, with competition for translation rights intensifying.
Surging interest in foreign literature in recent years has been sparked partly by the success of Scandinavian fiction – notably Stieg Larsson, whose Millennium books have sold more than 75 million copies in 50 countries, and popular television dramas such as The Killing.
In 2012, Hesperus Press, a tiny British firm, sensed potential in a comic Swedish novel that went on to become a European publishing phenomenon after major British and American companies rejected it. Hesperus bought the rights to Jonas Jonasson's The Hundred-Year-Old Man Who Climbed Out of the Window and Disappeared, which went on to sell more than 500,000 copies.
Chris White, fiction buyer for Waterstones, said that, blockbusters apart, there are «plenty of translated titles we've discovered recently which have sold in their thousands». He singled out The Collini Case, a legal thriller by Ferdinand von Schirach, one of Germany's top authors, which has sold 29,385 copies – «more than the last John Grisham» – eclipsing some homegrown novels that barely sell a few hundred. «The perception of translations isn't what it was perhaps 10 years ago,» he said. «They are just treated as great books.»
Publishers, editors and booksellers have been taken aback by astonishing sales in the UK of overseas authors they had never heard of, despite their blockbuster sales elsewhere.
Earlier this month huge queues formed outside London's Foyles bookshop for the latest novel by Murakami, a publishing phenomenon in Japan, whose books can sell 1 million copies within days of publication. Bookshops from Brighton to Edinburgh held breakfast openings to cope with demand.
Global events and cultural changes within Britain are playing a part in drawing readers to foreign literature, while social media are instrumental in spreading the word about successful international books.
Next month, Literature Across Frontiers will publish a report analysing market data. Its director, Alexandra Büchler, said that literary translations have grown by some 18% over 20 years. But some experts maintain that the size of the market for translations is still underestimated by publishers.
«Mainstream publishers are still very much about the bottom line,» according to BJ Epstein, senior lecturer at the British Centre for Literary Translation. «They really do underestimate the public, [assuming] that British people don't want to read about people in China or Iceland.»
Lawrence Venuti, a translator and author of The Translator's Invisibility, said that, beyond high-profile bestsellers, translations in the UK and US were still «a spit in the ocean» compared with countries such as Spain, France or Italy. Noting that anglophones have been culturally isolated by geography, he despaired of English-language publishers who mask that books are translations by omitting the translator's name from the cover. This month, though, Random House paid tribute to one, with a biography of CK Scott Moncrieff, the initial English translator of Proust.
Adam Freudenheim of Pushkin Press, a small publisher that specialises in translated literature, said: «There has been an increase. Pushkin Press's sales doubled last year and are on track to double or even triple this year.»
Pushkin's forthcoming titles include The Rabbit Back Literature Society, a witty Finnish novel by Pasi Ilmari Jääskeläinen, which has just been selected for the Waterstones autumn book club.
Christopher MacLehose, who, through Quercus's MacLehose imprint, brought Larsson to English-speaking readers, said there was a palpable change of climate when it came to translations. He said the idea of a comic Swedish novel selling 500,000 copies «would never have been dreamed of 10 years ago».
Word Perfect
The King James Bible, translated by church scholars and published in 1611, profoundly influenced English literary style and was seen as the standard English Bible until the 20th century.
Boris Pasternak's Doctor Zhivago, translated by Manya Harari with Max Hayward, helped British and American readers warm to Soviet writers and culture during the cold war.
CK Scott Moncrieff's translation of A La Recherche du Temps Perdu by Marcel Proust is itself seen as a masterpiece; Joseph Conrad told him he preferred it to «Proust's creation».
The Arabian Nights, translated by Malcolm Lyons, has been described as a «monumental achievement».