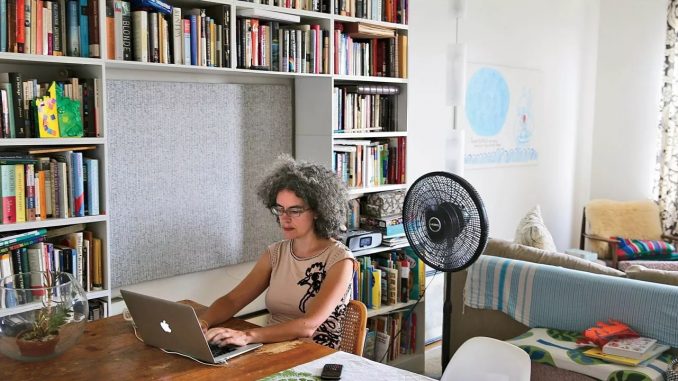 By Karla Zabludovsky
When Edith Grossman was translating a novel by Mexican writer Carlos Fuentes, she was struggling with how to handle the ubiquitous slang. One day, at lunch with Fuentes, Grossman asked him how he had picked up such a vast repertoire of dirty, vulgar and unheard-of slang.
"He said, 'Well, number one, when I was a young man I was in bars a lot.… Secondly, I make it up, so you can invent it, too,'" Grossman recalls. "I said, 'You made it up? No wonder I couldn't figure out what these phrases meant.' So I made it up too." For inspiration, she would sit near adolescent boys in the subway and listen to them talk, she says.
This is just one of the tricks Grossman has picked up during a four-decade-long career translating some of the best-known Spanish-language books in the world—from Miguel de Cervantes's Don Quixote to Gabriel García Márquez's Love in the Time of Cholera.
Grossman's office, deep in her Upper West Side apartment in Manhattan, smells like old books. In front of a pile of newspapers and an illustration of Don Quixote and Sancho Panza by Pablo Picasso sits a black-and-white sign: "Every time you make a typo, the errorists win."
"I see the world in a way that reflects everything I ever lived through and all my experiences," says Grossman, a twinkle in her olive-green eyes. "That has to color how I translate. How it does color it? I couldn't tell you."
An unpublished manuscript of The Discreet Hero by Mario Vargas Llosa, the Nobel Prize–winning Peruvian writer, rests on a nearby table, awaiting Grossman's return. Blues music drifts from a radio in the next room.
Grossman's success as a translator of Spanish and Latin American literature is rivaled by few. The Philadelphia-born 78-year-old has translated some of the most complex texts in print, including 400-year-old poetry by Luis de Gongora.
"Edith Grossman is one of 10 people who can make a living doing literary translation in the U.S.," said Jiri Stejskal, spokesman for the American Translators Association.
It wasn't always the case. In 1988, after Grossman finished translating Love in the Time of Cholera, one of García Márquez's best-known books, she called her editor and told him she was quitting her job to become a full-time translator. Her editor was skeptical that she could make a living.
"I said, 'Don't worry, I know 2,001 recipes for beans, and everything is going to work out just fine,'" says Grossman. "And it did."
Accidental Translator
A self-described reluctant student, Grossman disliked all her teachers in high school except for one—her Spanish teacher. "She had figured me out, she got me. She was very, very perceptive, and so I was very happy in her class," says Grossman.
Inspired by that relationship, Grossman went on to major in Spanish and did graduate work in Spanish and Latin American literature. She started translating a few texts for Review, a publication by the Americas Society, a forum dedicated to increasing appreciation for culture in Latin America, the Caribbean and Canada. One day, her neighbor, a literary agent, called Grossman and asked if she would be interested in translating García Márquez.
"I said, 'Are you kidding? Of course!' It was absolutely brilliant to translate his work," says Grossman.
Right away, she became enamored with the process. "I really liked the puzzle of reading a statement in Spanish and figuring out how it would sound in English. What level of discourse would you use? What kind of language would you use? Would you use elevated language? Would you use colloquial language? Is it street Spanish? Is it academic Spanish? And what level of English matches it?" she says.
Like Grossman, Natasha Wimmer, 40, fell into translation by chance. She has translated Vargas Llosa but is best known for her translation of Chilean author Roberto Bolaño's most acclaimed, and complex, novels—The Savage Detectives and 2666. Originally from Iowa, she moved to Madrid as a child.
Her mother fell in love with the language, and Wimmer quickly followed suit. Later in life, she was working as an editor at a publishing company when she received a book by Pedro Juan Gutiérrez, a Cuban novelist. When she couldn't find a translator for it, she decided to do it herself.
Shortly after, Wimmer's boss asked her to write a report on The Savage Detectives to see if the company wanted to buy it. She was immediately taken with the novel.
"I thought it was the best thing I had read in 10 years, in any language, and I had read a lot of stuff on submission and was pretty critical and not easily swayed," says Wimmer. She went on to translate it, an endeavor that took her about a year and a half.
Published in 1998, the novel unfolds in 1970s Mexico City. In it, young poets, delirious with love for the written word, steal books and gather to discuss them over cafe con leche at dingy restaurants in the city's downtown area.
"The pleasure we take in this, as readers of English, owes everything, of course, to the book's talented translator, Natasha Wimmer, who repeatedly finds inspired English solutions for what must be a fiendishly chatty and slangy novel," said the New York Times review of the 2007 translation.
Wimmer moved to Mexico City while translating the book. She rented an apartment near one of the protagonists' favorite coffee shops—it is a very geographically minded book, explains Wimmer, so understanding the neighborhood's layout was important—and met with student fans of Bolaño to discuss the meaning of the book's slang.
Still, when she was three-quarters of the way through translating the novel, Wimmer decided to start over; she felt as if her sentence breaks were too different from Bolaño's.
"In general, capturing the rhythm in a new language is the hardest thing to do, and it's also the most important thing to do. You can't be carried away by a novel unless you are caught up into the sweep of the language," says Wimmer.
Since then, Wimmer has been translating nonstop, and she is hoping for the opportunity to translate a female writer soon.
Both Grossman and Wimmer have dabbled in creating their own original writing, with mixed success.
Grossman says she devours novels, but whenever she sits down to write fiction, she condenses her words more and more until all that's left on the page is a poem. Years ago, Women's Glib, an anthology of humorous literature by women writers, included one of Grossman's poems.
"It was called 'Tuesday Dilemma' because I thought of the poem on a Tuesday," explains Grossman. Then she recites the poem from her chair.
"Dr. Sizmor promises beautiful, clear skin
to every woman riding in this car
And the New York Times reports
that cynics die much earlier by far than true believers."
"And that's the poem," she says. It's the only one she has gotten published because, Grossman admits, she does not handle rejection well and prefers, therefore, to write for herself.
Wimmer, too, felt compelled to write fiction early on but knew that she didn't have the gene for plot. In any case, "working in publishing in general made me very aware of the glut of fiction out there, just the huge quantity of fiction and the desire not to add anything unless it felt really urgent and essential."
Instead, she has written essays and book reviews while preparing her translation seminars at Princeton and Columbia universities. Grossman also teaches at the latter, and this year, as an homage to García Márquez, who died in April after battling cancer for years, she will teach two seminars on the writer in Manhattan.
Falling in Love
The relationship between author and translator, even when the former is no longer alive, is profoundly intimate.
"You can tell I fell in love with Cervantes," says Grossman, blushing slightly. He "must've been a fabulous man. I would've loved to hang out with him. I would've loved to have a meal and some wine and just talk to him."
She talks about his life—a soldier, Cervantes fought in the Battle of Lepanto in 1571, where he lost movement in his left hand; was taken captive shortly after; and then staged numerous escape attempts—with the awe and pride of a mother talking about her child's triumphs.
"The shadow of Cervantes is always there in Spanish," she says. "It's like a drumbeat in the back of everybody's head, even people who haven't read Don Quixote."
Grossman's fascination with Cervantes is rivaled only by her love for García Márquez. She met him a handful of times, on several occasions at hotel restaurants in Manhattan, where the novelist and Grossman were joined by his wife. When she had questions about specific passages in the book, she would save them and then send García Márquez a long fax—they had both just started to experiment with computers during Love in the Time of Cholera, says the translator.
"I felt as if I knew him better than I actually knew him.… I was inside his head through each of the books that I translated," she says. Grossman describes García Márquez as a lovely, very smart, very funny, very witty man.
Wimmer, likewise, feels as if she got to know Bolaño intimately, especially since much of The Savage Detectives is autobiographical. Translating Vargas Llosa gave her a deeper insight into his peculiarities, too. While working on one of his novels, she reached out to the writer to discuss some concerns.
"I spotted some inconsistencies in the story and I said, 'Well, you know, I could just make a little change here and this little change here,' and he said, 'No, I intended it to be that way,"' says Wimmer with a giggle. "But he was very gracious," she adds.
For these translators, certain words are better left untouched, a kind of signature for particular authors. Wimmer, for example, left mano in The Savage Detectives. She said she could have translated it as dude or man but knew that neither stood for exactly what Bolaño intended.
For Grossman, who doesn't translate street and church names, or señor and señorita, it was more about staying faithful to the language of the narrative in Love in the Time of Cholera. To accomplish that, she avoided using any contractions, thereby elevating the language of the narrative. She looked for an equivalent style in English and settled for 19th century writing, getting inspiration from the voices of Charles Dickens and Jane Austen.
New York transplants, both women enjoy being at the heart of the publishing world. For Wimmer, who lives in Ditmas Park in Brooklyn, New York offers her opportunities she wouldn't have back home—and a dash of celebrity, too.
Wimmer recalls a time when she was recognized at a café in her neighborhood. But, she explains, "that was a bit of a fluke. Don't make it sound like I'm accosted, like I'm fending off the paparazzi," she says with a laugh.
She adds, "A lot of translators enjoy being the power behind the throne."