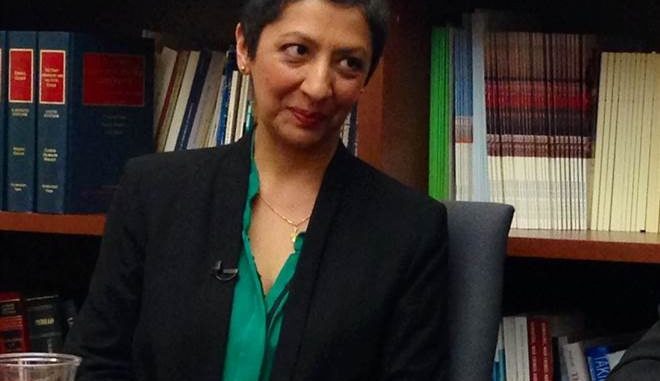 By Robert Windrem and Monica Alba, NBC News
Banafsheh Keynoush plays a key role in international diplomacy, one that is both crucial to its success and yet by necessity anonymous.
The 45-year-old San Francisco woman, an Iranian immigrant and U.S. citizen, is a professional translator who has rendered into English the speeches and interviews of the last four Iranian presidents during their annual addresses to the United Nations, including the words uttered during last week's visit by Iran's new president, Hassan Rouhani.
She translated Rouhani's two press conferences, his appearance at a joint Council on Foreign Relations – Asia Society event as well as the words spoken at breakfasts, lunches, dinners and interviews with CNN, CBS and the Washington Post. She just missed the phone call between Rouhani and President Barack Obama or she would have translated that too.
On Wednesday, Keynoush met with students, scholars and journalists at the Center on National Security at Fordham University Law School in New York to discuss her work. Robert Windrem, an investigative reporter at NBC News and a fellow at the Fordham center, interviewed Keynoush.
During the appearance, she discussed Rouhani's ice-breaking visit, a controversy over whether he used the word «Holocaust,» how she prepares for an assignment and where she sees Iran – U.S. relations headed.
A native of Tehran from a prominent family of Iranian diplomats, Keynoush began translating for Iranian presidents while still a student at Islamic Azad University, beginning with Hashemi Rafsanjani in 1992.
«I went to a conference on Afghanistan,» she said. «The interpreter got really tired and needed help. So I offered to help and voila!… People who heard me liked my translation and so I was asked to handle presidential press conferences.»
After moving to the U.S. in 1995 at age 27 to get her masters' degree in diplomacy, she performed the service for Mohammed Khatami, Mahmoud Ahmadinejad and Rouhani. She has also worked with Shirin Ebadi, the Iranian Nobel Peace Prize laureate, and at the Iran-U.S. Claims Tribunal.
As one might expect, she often finds herself in the middle of controversy. She translated for then-President Ahmadinejad during his contentious appearance at Columbia University in September 2006. Last week, she translated Rouhani's interview with CNN's Christiane Amanpour, which caused a stir when the Iranian media challenged her use of the word «Holocaust» during his response to a question about the killing of Jews by the Nazis during World War II.
Keynoush was also asked about what goes into preparing for a translation. In short, she said, she listens … a lot. Then, when she meets the leader, she quickly gauges how well they mesh.
She described the differences among the presidents she has worked with, what she has seen behind the scenes, and how too often Americans focus on the personalities and not the Iranian policies.